It is said that energy is constant and it only changes its form over time. If I am allowed to express my journey as a painter I will use this example to explain how over the years my paintings have changed shape and yet their inner energy has remained constant. Every true artist is filled with this insatiable and indestructible energy of creativity that makes him strive for the yet undiscovered frontiers of creation and it is the most alluring challenge for them; to which I, too, am no exception. In this process, I have experienced the artist's ANGUISH to express their feelings on the canvas and then their ECSTASY when it has taken tangible form through the colours of imagination.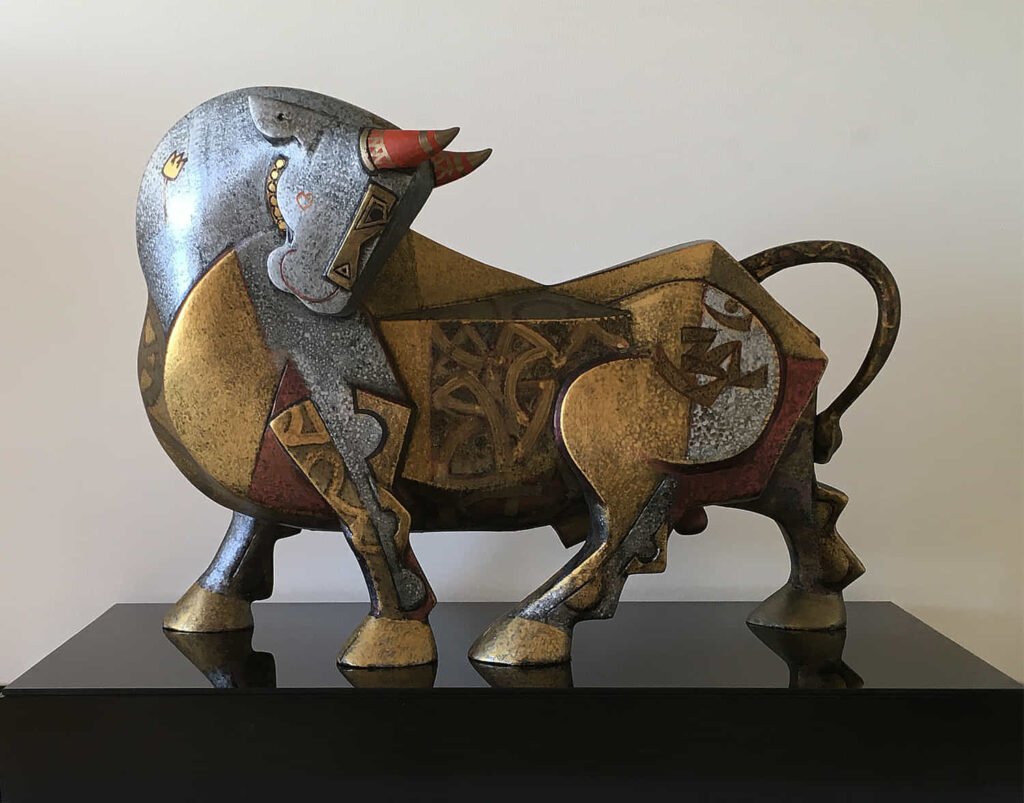 LUST for LOVE!
Painter Dinkar Jadhav has established himself as an artist who dares to walk on a path less trodden. His journey to these romantic yet challenging places of creative excellence began with the ASHWA CHITRAMALA (the horse series!) a few years back, which met with success and admiration equally! Having invested corpus invaluable hours, He has Resurrected his swift horses, Flaming with Novelty and company, and a new form of muscularity, the Bull. There was sheer anguish and fierce passion in his earlier horse paintings which exploded through the colours and fearless strokes on the canvas.
This anguish has given way to love now and the passion has transformed into lust, full of love! His new series of ever-advancing, carefree creatures of speed which are crossing over the boundaries of the unknown future keeping their faith in love is true to its name, 'LUST FOR LOVE!' Jadhav has painted these horse couples engrossed in passionate love with a heart of an evergreen romantic. The colors are bright and gleaming with self-assurance, and the brush strokes are gentle yet confident and echoing the spirit of 'carpe diem' i.e. seize the day!
Capturing emotions in art is a pursuit of perfection. Artists experiment with mediums, compositions, and subjects to reflect emotions and feelings which fail words. Dinkar Jadhav's oeuvre is an endeavor in this pursuit.
Dinkar's latest collection captures the spirit of effervescence in the living – the emotion of vivacity. He uses primal imagery, the form of two majestic beasts – the horse and the bull to represent this emotion.
Horses and bulls are seen as two naturally energetic creatures, and the epitome of high spirits. Their quintessential motion is animated, untethered and unconstrained. The typical gallop or stride is more aerial than terrestrial, and reflects motion not tied to the earth but driven by the progression forward. Dinkar captures this energy, the untethered joy and single-mindedness to move with liveliness on his canvas. The contortions of motion represent the precise moment when the natural energy is at its peak, and both the antecedent and precedent of this moment can be clearly envisaged. 
Dinkar's bulls and horses are stylized to prevent the subject from being engulfed with familiarity. He renders the animals as cubism-inspired angular representations but ensures that there is enough relatedness to the animal form even from afar. He deftly uses pivotally drawn lines across contexts – in different parts, these show the aggression seen in the contorted head of the male horse or the bull, the boundary between one part of the canvas to another part demonstrating a metaphorical transcending, or the strained muscles of the galloping animals.
Dinkar brings out his signature technique of creating pastel-like textures, using multiple layers of acrylic colors in this collection, for which he has received much acclaim. He has further accentuated these using metallic colours – a restrained effort to bring in the right balance of highlights to the imagery.
This is Dinkar's pursuit to capture the emotion of vivacity through nature's most primal motion – a pursuit where he comes strikingly close to perfection.