Pune, 10th February 2023:
Peter Burwash International announced its partnership with select Ileseum Clubs in Pune.
The reputed PBI program has delivered world-class training services to hone world-class talent. With the partnership, Punekars receive access to a globally renowned tennis program delivered by internationally recognized coaches. The coaches have extensive experience training icons of the sport at the Grand Slam level to implement development strategies for various tennis associations worldwide. The program caters to all types of individuals, ranging from youth development to adult programming. PBI is currently leading the charge of the next-gen talent of Indian tennis with players like Sahaja Yamalapalli, Rishi Reddy, Shrivalli Bhamidipaty, to name a few. Players like Leander Paes, Andy Roddick, Sanchez Vicario, Abigail Spears have also been associated with PBI. The launch was co-announced by René Zondag (PBI President), Cesar Morales (PBI India Technical Director), Milos Milunovic (PBI Pune Technical Director), and Gurpavit Singh (Founder, Ileseum Clubs).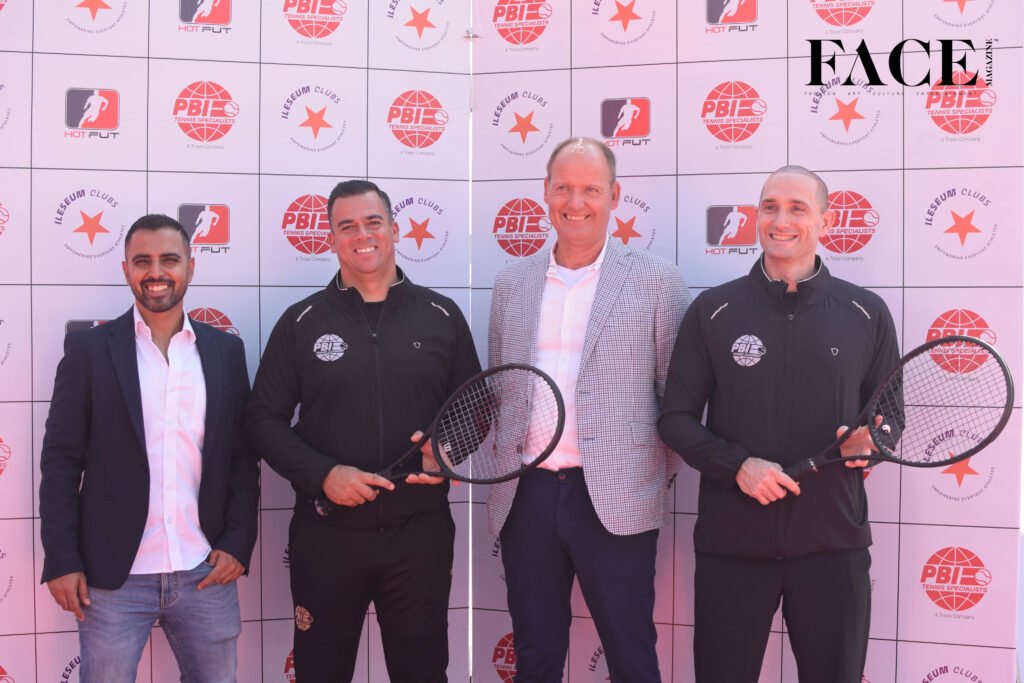 Ileseum Clubs, Bavdhan, Pune, is unique, with over 12.5 acres of world-class sports infrastructure. It boasts all the necessary world-class infrastructure requirements to execute a successful PBI program, from multiple courts to training facilities, strength and conditioning facilities, swimming pools, therapy, recovery rooms and sports science team. PBI and Ileseum clubs have already signed three more Ileseum club locations in Pune with the Solitaire Group and are exploring expansion into several new club projects in Mumbai, Solapur and Chennai. Ileseum clubs work with several international academies and Brand partners. Ileseum hosts international Academy brands like PBI, Gary Kirsten Cricket India, FC Barcelona, Ricky Hatton (boxing), and Michael Phelps Swimming, to several leading Indian sports development brands like Padukone Sports Management for Badminton, Chennaiyan FC, Thane City FC, Padel Tennis Federation, and Pickleball Association of India.
Of this new partnership with Ileseum Clubs, René Zondag, PBI President, said, "I am thrilled that we are entering a new geographic location with Pune, to offer PBI programs to competitive athletes and recreational players. Sport brings people together, and I'm proud to be part of this initiative with Ileseum Clubs. Partnering with Ileseum clubs opens gates to new cities and a class-apart infrastructure. I can't wait to see this partnership blossom and provide fruitful results to people of all ages." Gurpavit Singh, the founder of Ileseum Clubs, stated, "It brings me immense joy to be able to add another feather to our cap. PBI is one of the best academies we could partner with to bring advanced tennis training and workshops. We hope the enhanced level of education, workshops, and infrastructure offering will help us propel the tennis ecosystem in India."
Ileseum Clubs plans to open over 10 world class PBI programs in club centres over the next three years and conduct several outreach programs in associate clubs. The intention is to rekindle the joy of playing tennis in India by providing state-of-the-art facilities at prime locations and delivering International standard services at all the facilities. PBI currently has over 200 students training under its main high-performance center in Bangalore. With over 1000 parents already engaged with Ileseum Clubs in GLC alone, a robust ecosystem is already in place. Plans include demo sessions for adults and children to experience the PBI coaching methodology on February 11/12, 2023.
About PBI:
Founded in 1975, Peter Burwash International (PBI) is the world's premier tennis management company, specializing in tennis instruction, program development, marketing, operations and daily tennis activities for five-star resorts, hotels and tennis clubs worldwide. PBI Founder Peter Burwash has been a Hall of Fame icon in the tennis industry for over 45 years as a world-renowned coach, author, tennis TV commentator and motivational speaker. Recognized for its innovative Tennis For Life® instruction and exceptional customer service, PBI directs tennis programs for 55 exclusive properties in the United States, Mexico, Hawaii, the Caribbean, Asia, the Middle East and Europe. For more information, please visit www.pbitennis.com.
About Ileseum Clubs:
Ileseum clubs is an end to end real estate services company with a mission to make the world a better place by building the people in it. Sports and Fitness are its tools to building happier and healthier communities.  The brainchild of Gurpavit Singh and Amit Goel. Ileseum Clubs delivers ROI's on amenities spaces for large developers like GGC, SPR Group, Solitaire Group, The Wadhwa Group etc. and specialises in Township assets management. With over 14 World class International Academy partners and brands and an events calendar that spans over 200 events a year, Ileseum clubs has expanded to 4 active clubs and 17 clubs under development across India.
PIC CAPTIONS :
The world's leading tennis academy, Peter Burwash International (PBI) was launched at Ileseum Clubs, Bavdhan, Pune on 10th February 2023.
Seen in the pics are (L to R) :
1A – Cesar Morales (PBI India Technical Director), Rene Zondag (PBI President) and Milos Milunovic (PBI India Technical Director)
5A : Milos Milunovic (PBI India Technical Director), Gurpavit Singh (Ileseum Clubs Founder), Rene Zondag (PBI President) and Cesar Morales (PBI India Technical Director)
2A : Rene Zondag (PBI President) inaugurating the world's leading tennis academy, Peter Burwash International (PBI) at Ileseum Clubs with Gurpavit Singh (Ileseum Clubs Founder)
3A : Rene Zondag (PBI President) performing the traditional coconut-breaking ceremony
4A : Gurpavit Singh (Ileseum Clubs Founder), Cesar Morales (PBI India Technical Director), Rene Zondag (PBI President) and Milos Milunovic (PBI India Technical Director),
Follow us for more :
Instagram – @facemag.in
Facebook – https://www.facebook.com/facemag.in
Twitter – https://twitter.com/Facemagdotin