In conversation with Naina Kumar

Top 5 Forbes World Influencers, Simonetta Lein is a celebrated TV personality, powerhouse
host, fashion icon and philanthropist. Her famous talk show "The Simonetta Lein Show" is one
of the top celebrity talk show in the world and ranked #1 as a celebrity talk show on Instagram
worldwide surpassing even Paris Hilton,Joe Rogan and Michelle Obama in various moments. Simonetta has won various awards including the Celebrity Media Personality & Influencer of the Year 2022 at Cannes Film Festival and Golden Wings in Dubai. Lein's charisma and her ethics have made her an unwavering force of power & glamour. She has revolutionized talk shows by having relevant and purposeful conversations with the likes of Steve-O, Mark Cuban, Marcus Lemonis, Ceelo Green, Candace Cameron Bure, Danny Trejo, Kathy Ireland, Jerry Springer and Shaggy just to name a few. Lein's dynamic persona and her eccentric style statement spark excitement in all of her fans and followers. She is one of the most influential celebrities in multimedia. She has mastered the art of balancing digital stardom and nurturing real connections flawlessly. Lein is an empath who cares about giving back to society through her work and craft. With her renowned foundation, The Wishwall Foundation, she addresses social causes like literacy, poverty, and women's safety and helps make wishes come true around the globe!
Once you quoted 'Energy is the new Currency', Can you please elaborate on this for readers?
Energy is all that we truly have. If wasted or badly used on things that make us unhappy it is a true sin. It is more important than money. The money you can re-make. Energy gets drained and tainted. So it has to be protected by positivity at all costs.
What was your vision with The Simonetta Lein Show? What do you think makes it one of the best and most loved talk shows?
Real connections, the favourite icons but seen under a new lens. People are tired of celebrities being all about their egos. I indeed see them as valuable artists and contributors to society. Every one of them has real-life experiences to teach. The vision is to be real and with uncut conversations, in contradiction with what AI is pushing. I am a real being, I use social media as a tool but I promote real-life conversations and real people.

What is the most challenging part of hosting a show that no one talks about?
The behind-the-scenes of waiting, and scheduling the busy agenda of the guests, and their team. It is a waiting game and a rush game at the same time. As a host, I want to know who my team books and the content we will create from that interview. And I am also aware that having only household names sometimes you might have to wait for years before the schedules of the show and theirs can finally coincide. It is truly hard at times. Some of their teams are amazing and super caring, others maybe have too many clients or too much to do or sometimes they just miss out on addressing it. So you have to never give up and never take it personally. It is of course not me doing it, but my team. But I am there observing along the way and cheering with them and being tired along with them and always encouraging them. Booking major talent for a big show is probably one of the most difficult jobs in the world yet so thrilling. And as a host you care about your show, you are there on the field with your team and working hard to make it all happen.
You are one of the most celebrated Social Media Influencers, What was your source of inspiration?
In reality, it's God. I always think about how to make things particular, different, and beautiful to praise HIM and glorify HIM. I feel everything we are, is in HIS image so I would never do something that would make HIM unhappy. Or at least I try my very best as I know HE is watching and I know there is so much more to this life we do it now.
Share one of your most hilarious moments while hosting.
When Steve-O got his van broken and he connected from an AAA parking lot with his German shepherd on his lap saying: is it ok if we do the interview this way? And so I brought my dog during the show too!
What are the qualities one must master to become a successful TV personality?
Kindness, care, and preparation. Also, know how to listen and read the room. Let them talk but also bring in interesting points to stir the conversation. Being an empath helps people to open up. The easiest interviews are usually with comedians. But the satisfaction is when an introvert opens up. I still remember the icon Don McLean played American Pie for me. I was told he never does that. Those are the real rewards and so satisfying.
When it comes to fashion do you love to experiment or feel safer with the classics? Do you use Fashion as an Expression?
The experiment is everything. Yet I feel nowadays classics can be innovative. We went so much in showing everything that a classy woman can become irresistible. Ladies, know your worth and hold it dear to you.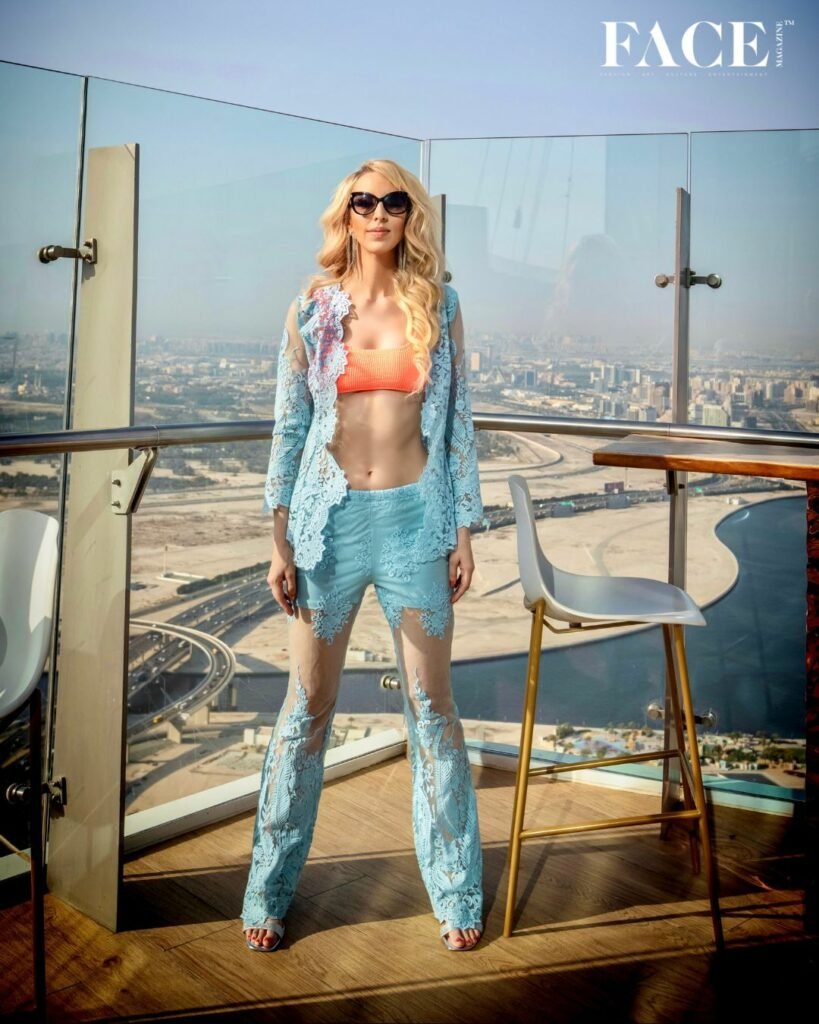 As an activist & writer, you have always spoken loudly about sustainability in every industry. How can people make better choices?
Sustainability is many things; it is a real conversation and good material. It is supporting local businesses and promoting your friends. It is not only using sustainable materials which are of course important. I see it now more than ever at every level. A kind talk with humans that are not constantly looking at their phones is sustainability and living in a house where there is attention to the health of the material chosen is sustainability. Thinking about the food we eat and the thoughts we create is also part of sustainability in the bigger picture.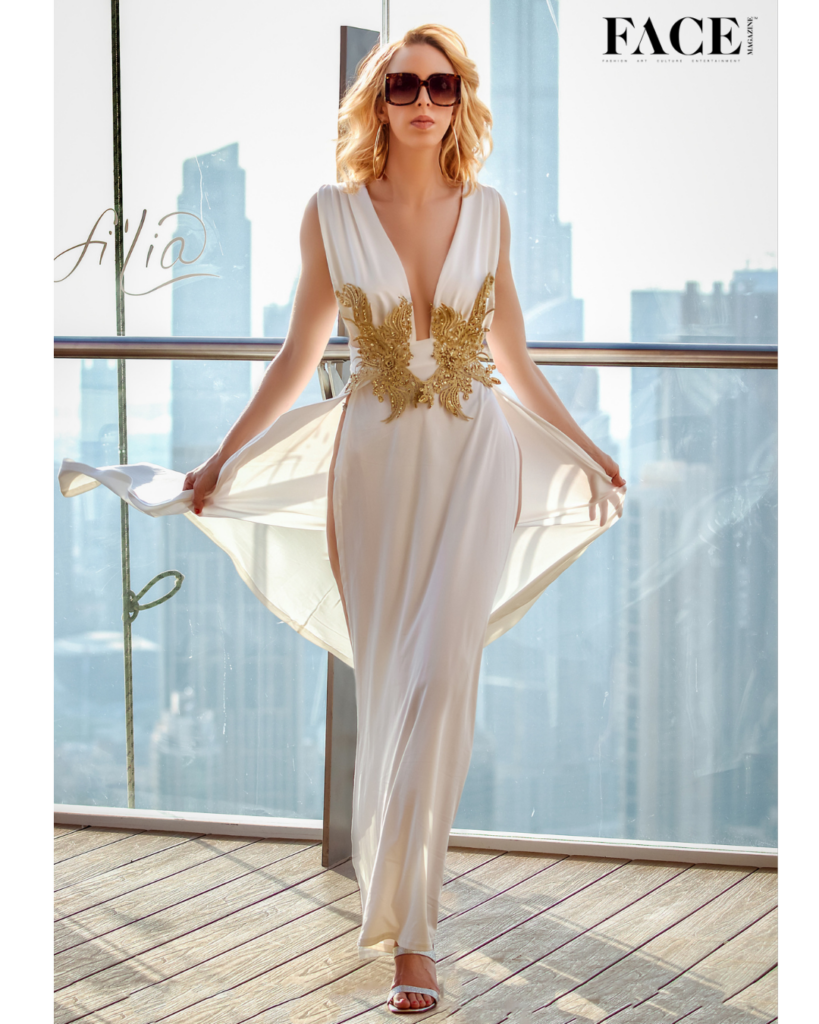 What challenges does fame bring with it? How do you deal with the pressure of being relevant and out there?
I deal with it as a daily task. I see project after project. I also try to enjoy what I do as a true accomplishment without being too attached to it otherwise as an artist; you constantly live with the pressure of being relevant. I have met many artists with that fear. In the end, we have to do it, but if you see it more as a cohesive part of your job instead of you as a person who has to forcibly deliver you will stay much more creative and last longer.
What are the causes you support and promote as an activist? What is your mission with 'The Wishwall Foundation'?
We make meaningful wishes come true, from medical facilities total makeovers to serve 800 people, to libraries reshaping, giving sewing machines to women and teaching them a skill, or bringing portable waters to rural communities. Supporting teachers with remodelling of their lounge room and giving girls computers and digital literacy as well as literacy competitions for 500 children and so on. Now we are embarking also on supporting farmers as we delivered fertilizers and to see an entire village benefit from the crops was incredible. We are about to plant thousands of trees. The projects are infinite and give me so much joy.
As a Media personality you must have a hectic lifestyle, When do you pause and how do you revive yourself?
Family over everything- I love to go off the grid with my husband and love thermal waters. I also love Dubai and the people there. I am pretty versatile. I can be happy eating ribs with friends around a fire or at a super fancy gala. The important thing is having my husband with me and being able to call my parents once a day to check if they are ok. All the rest becomes even better when my dog is with me. With my family, I can do just anything!