By Tanisha Saxena
Co-working spaces have become a buzzword. In the recent past, it has become a key factor. A co-working space is basically a premise where people from different professions sit under a common roof and work. To put it simply, it is an arrangement where employees share an office to save money, conserve energy all while operating out of central locations.
Low on rental
One of the best features or advantages of co-working spaces is their budget friendly operational costs. Renting a desk at co-working spaces offers you access to nearly all the facilities which you need in a professional set up. And guess what? At affordable prices. Imagine trying to set up your own office and the heavy cost that you would have to pay apart from the infrastructure. Co-working spaces give you the relief of add-on expenses like maintenance, electricity, sanitation, security, fire and fit out insurance etc. that are taken care of by the space provider.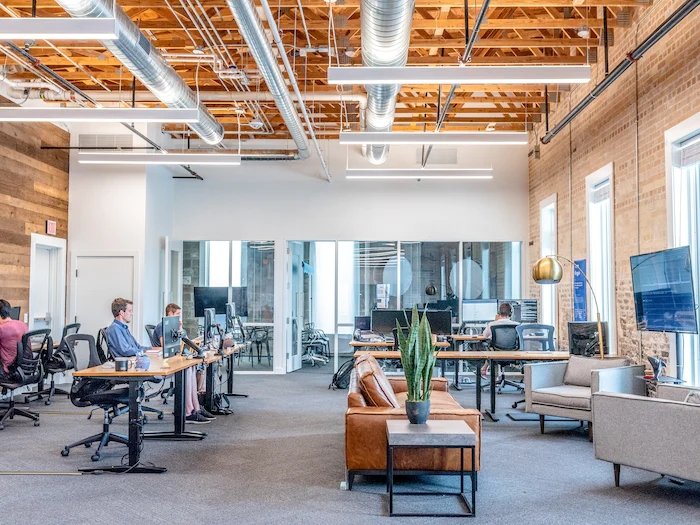 Networking opportunities
An impromptu conversation at the coffee counter may lead to a business collaboration or an exchange of ideas resulting in something new. All this is possible under one roof. Co-working spaces undoubtedly offer a sense of community and networking among the workers. We all want to grow in our respective work areas, and we look for opportunities in our immediate work circle that is by interaction and exchange of ideas with each other at the workplace. Thus, the co-working spaces facilitate this process by regularly organizing events and workshops for the people working there. This provides the people an opportunity to meet each other and expand their network.
Hi-Speed & Reliable Wi-Fi
Hi-Speed and reliable internet is the need of the hour. In fact, it is one of the basic things we look for when starting work. Co-working spaces allow you to enjoy Hi-Speed internet by making sure that every inch of the space is connected to a Wi-Fi network, from desk space, meeting rooms, the break-out rooms, corridors, to all the other common areas. Moreover, co-working spaces always have both primary as well secondary Wi-Fi connection, so you never miss "the connect".
Work Out facility
Being a workaholic is real today, but so is being cautious of our bodies and health. Besides a good diet, workout is now an integral part of life. But the work pressure sometimes takes over and working on our bodies takes a back seat. That's where a co-working space trumps a normal office setup. There are co-working spaces with gyms inside, so the people using the space can workout along with working!
Here are our top picks from across the country.
91 Springboard
Deemed as one of the most reliable coworking spaces, they are located across eight big cities in India. It is a beautiful amalgamation of flexibility and modernism under one roof.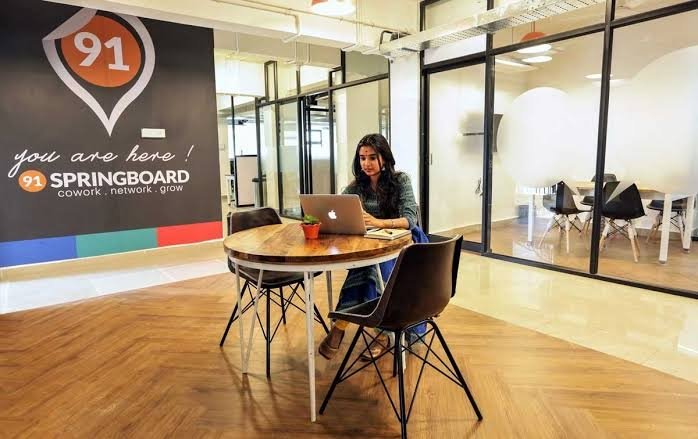 Workingdom, Connaught Place
They have got chic desks, private perfect cabins, day passes— all at affordable prices. From necessities to luxury, Workingdom has got everything for the hardworking. Their day passes start at INR 1,000 which is definitely a deal for especially the freshers and freelancers.
Cowrks
Coworks has spread across five cities in India. Their USP is fully customizable office spaces suited to individual team's needs. With flattering interiors and intelligent technology, Cowrks offers you all the comforts of having your own office while working out of a co-working space.
Coworking 24
In the backdrop of mesmerizing views and rooftop amphitheater setting, Coworking24 Lake View Center (CW24) in Madhapur is quite a dreamy workplace. Accessible to the tech geeks and a trigger to the creative minds, this Co-working space is unparalleled. And what's more, they have got swanky lounges and a free gym.