The Finance and Investment Cell of Shri Ram College of Commerce hosted the 2023
edition of India's largest undergraduate finance festival, Episteme, which was an
enormous success. The festival spanned over three days, from April 26 to April 28, and featured intriguing competitions and enlightening speaker sessions. Episteme drew a large number of students and finance enthusiasts who were eager to learn and compete in this exciting arena.
Shri Ram College of Commerce is among the most prestigious colleges at the
University of Delhi. Established in 1926, it has since gained a remarkable reputation as the best commerce college in Asia and is the dream college for many commerce
aspirants.
The Finance and Investment Cell, initiated in 2009, aims to develop financial instincts
among young minds through regular workshops, events, and continued collaboration
with the industry to bridge the gap between pedagogy and practice.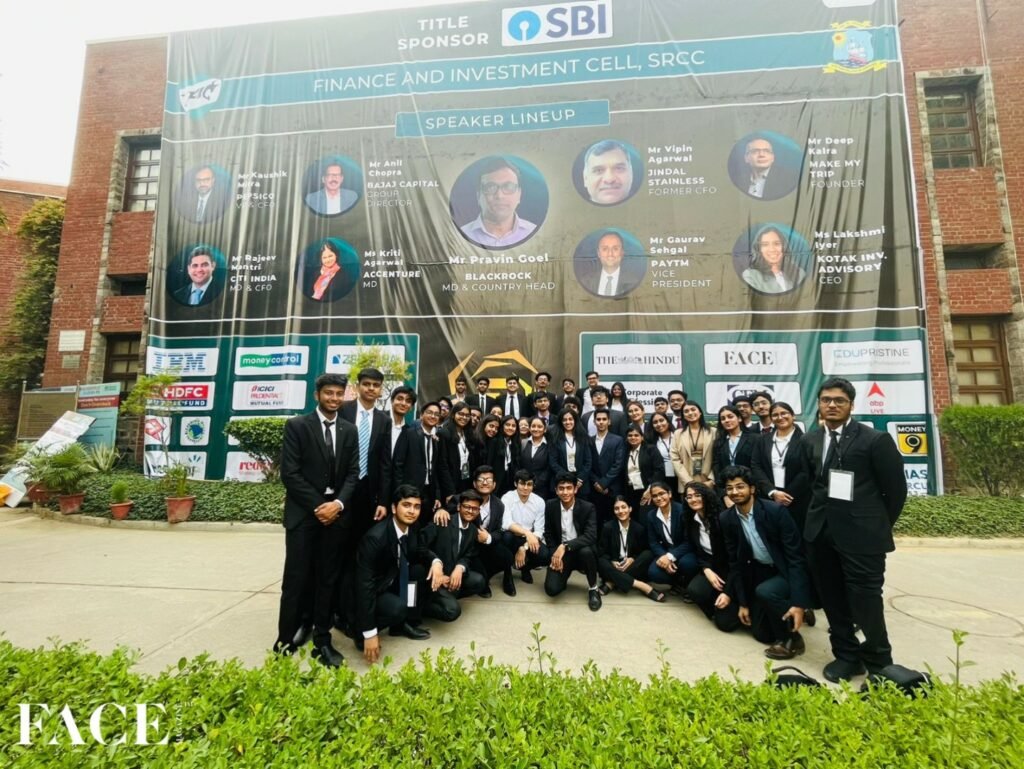 Episteme has established itself as a prominent festival, attracting participants from all
across India and the world. This year 's edition was no exception, bringing in a
staggering 10,000+ participants, a testament to the popularity and prestige of Episteme, which has become one of the most sought-after festivals for finance and investment enthusiasts. Episteme'23 offered a lineup of six thrilling competitions that were designed to challenge and test participants' skills, knowledge, and expertise in various financial domains:
1.Menace At Metropolis: The dynamic stock market simulation event put
participants' grit, fortitude, and financial acumen to the test. Spanning two
rounds and with a focus on analysing news, strategising trades, managing risk,
and investing to get the best returns, participants waged a battle of bulls and
bears. The event offered the thrill of the stock market and the chance to be
heralded as the true Badshahs of the Bazaar.
2.Shri Ram Fund Face-Off: The event provided participants with an opportunity to
step into the shoes of a seasoned fund manager and navigate the storm of
volatile market conditions to generate desired returns for their investors.
Participants gained practical experience, developed their financial skills, and
demonstrated their abilities in a competitive environment.
3.Shri Ram Case Cade: This competition was an exciting opportunity for some of
the brightest minds in the country to showcase their problem-solving skills and
compete for glory. Participants analysed and solved a complex business case
through an adrenaline-fueled journey of three rounds using their knowledge and
expertise in management, strategy, finance, and other related fields.
4.Shri Ram Policy Battle: The intellectually stimulating event held across three
exhilarating rounds entailed analysis, strategy, innovation, crunching numbers,
and weighing the pros and cons to be crowned as the Policy Emperor by pointing
out the drawbacks of various public policies and devising alternate solutions. The
competition was conducted online.
5.Shri Ram M&A Championship: The mergers and acquisitions simulation
competition allowed the participants to gain a realistic experience of the M&A
process and develop financial and managerial skills. Participants analysed
potential acquisition targets, evaluated their financial and operational
performance, and developed a negotiation strategy to secure a successful deal.
6.Shri Ram Pitch(a)thon: The Shri Ram Pitch(a)thon was a unique competition that
allowed participants to put themselves in the shoes of a founder, investor, thinker,
and problem solver all at once. It challenged participants to think outside the box,
develop innovative solutions, and demonstrate their troubleshooting abilities.

Apart from the highly engaging and enthralling events, Episteme'23 also had an
immaculate lineup of influential personalities for speaker sessions. The experts shared their seasoned advice on economic issues and geopolitical dilemmas. The Cell had the opportunity to host the following personalities as speakers for the 2023 edition:

● Mr Pravin Goel, MD & Country Head of BlackRock
● Mr Deep Kalra, Founder of MakeMyTrip
● Mr Kaushik Mitra, CFO of PepsiCo
● Ms Kriti Agarwal, MD of Accenture
● Ms Lakshmi Iyer, CEO of Kotak Investment Advisory
● Mr Rajeev Mantri, MD & CFO of Citi
● Mr Gaurav Sehgal, Vice President of Paytm & Former CFO of OlaMoney
● Mr Anil Chopra, Group Director of Bajaj Capital
● Mr Vipin Agarwal, Former CFO of Jindal Stainless

Finally, Episteme'23 was a resounding success, showcasing the skills and talents of finance and investment enthusiasts and providing an excellent platform for learning andgrowth. The Finance and Investment Cell of SRCC is proud to have hosted such a well-organised and entertaining event. Undoubtedly, Episteme'23 will inspire future events and continue to provide a valuable platform for students to showcase their skills and learn from experienced professionals.

To learn more about Episteme and FIC, visit our website and Instagram handle.