In conversation with Naina Kumar.

Zouk is a modern Indian classic brand that seamlessly combines contemporary and traditional elements to infuse subtle elegance into your lifestyle. Hand-crafted, Cruelty-free, and Proudly Indian, Zouk celebrates vibrant Indian culture and presents the country's craftsmanship on the global map. The brand offers a wide range of tasteful and functional Bags, Wallets, Footwear and Accessories. The PeTA India Fashion Awards 21 winner brand started as a D2C brand and became one of the top D2C Icons of India at D2C Startup Summit '22. On 1st July '23 Zouk launched its first store at Seawoods, Nexus Mall, Navi Mumbai, where we caught up with the dynamic duo Disha Singh and Pradeep Krishnakumar, the Co-Founders of the brand to celebrate and converse about their brand's legacy and vision.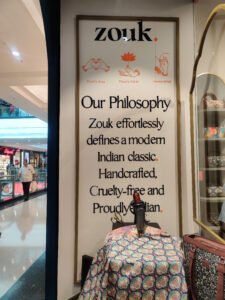 When was the seed of Zouk sown?
Disha: The seed of Zouk was sown in 2016, the journey began post my Kutch visit for an IIMA course. I observed that my friends appreciated the local handicrafts but refrained from buying them because they weren't functional. This led us to brainstorm and build a modern lifestyle brand from India for the world which celebrates Indian craftsmanship and durably chic.
As co-founders, how did you both find that balance in working with two great minds?

As co-founders, we have always valued open communication and mutual respect. We recognize and appreciate each other's strengths and expertise, allowing us to leverage our individual skills for the benefit of Zouk. We have developed a strong partnership based on trust, collaboration, and a shared vision, which has helped us find a balance in working together.

What is your vision with Zouk?
Our vision with Zouk is to create a globally recognized brand that celebrates the rich heritage and craftsmanship of India while embracing modern design. We aim to empower Indian artisans, promote ethical practices, and offer high-quality, culturally-inspired products that resonate with our customers worldwide.
Zouk has supported and up-skilled over 400 Indian artisans. Share some of your favorite success stories with us.
All the artisans who have worked with us for years are very special to us, and we have tried to add as much value to their lives as possible from all angles. May it be with providing better working conditions or up-skilling them to do better craftsmanship for India-based products. Artisans joined us as helpers, but today they have gone to be head karigars, machine men. These are the things and ways in which we could help the artisan community, and we are proud of them.
How important is it to educate while you cater to your clients about the rich heritage and culture of our country?
Educating our clients about the rich heritage and culture of our country is of utmost importance to us. It helps create awareness, appreciation, and a deeper connection with the products they purchase. By sharing the stories behind our designs, the traditional techniques employed, and the significance of the motifs, we strive to foster a sense of pride and promote the preservation of our cultural heritage.
Which one is your favorite product from Zouk's collection? Which one is the bestseller?
As co-founders, it's challenging to pick just one favorite product from our collection, as we genuinely love them all. However, if we had to choose, the Flomotif office bag holds a special place in our hearts due to its intricate craftsmanship and unique design. In terms of bestsellers, our Flomotif office bag has been exceptionally popular among our customers, showcasing the perfect blend of traditional aesthetics and contemporary appeal.
Fast fashion has brought chaos to the fashion industry. How is Zouk trying to stay ethical while also catering to the trend?
At Zouk, we firmly believe in ethical practices. We are committed to producing high-quality products that stand the test of time, both in terms of design and fashion. We prioritize fair wages, safe working conditions, and the use of eco-friendly materials. By offering timeless designs inspired by our rich cultural heritage, we aim to create products that transcend trends, encouraging conscious consumption and reducing the negative impact of fast fashion on the environment and workers.
From starting as a D2C brand to opening your first store, how has the journey been so far?
The journey from starting as a D2C brand to opening our first store has been truly remarkable. We are grateful for the support and appreciation we have received from our customers, who have embraced our vision and the products we offer. The expansion to a physical store allows us to provide a more immersive experience for our customers, enabling them to explore our collections firsthand. It has been an exciting and fulfilling journey, and we look forward to continued growth and connecting with a wider audience.
Are you planning to open more stores across India?
Yes, absolutely! Opening more stores across India is part of our expansion plans. We are excited about the opportunity to bring the world of Zouk to different cities, enabling more people to experience our brand and support the talented artisans we work with. Stay tuned for updates on our future store locations as we continue to grow and spread our love for Indian craftsmanship.
Visit store Seawoods, Nexus Mall, Navi Mumbai or website zouk.co.in for more.