Are you ready to embark on an extraordinary journey that will challenge your business acumen, ignite your entrepreneurial spirit, and pave the way for a successful future? The Commerce Society, SRCC proudly presents the National Commerce Olympiad, the ultimate competition for aspiring business leaders.
About the Institution
Shri Ram College of Commerce, a premier and prestigious institution in the field of Commerce and economics education in the country, attracts some of the most talented young people every year, not simply because of its reputation for excellent academic performance but also the college has come to be known for its achievements in extracurricular activities.
The Commerce Society is one of the six registered societies of Shri Ram College of Commerce. It works with a view to produce an efficacious platform of opportunities to those who have a ravenous appetite for brilliance. The intent is to broaden the mindsets of the engines of future growth as well as to unite students separated by college boundaries but connected by forward-looking ideas.
Unleashing the Power of Commerce:
The National Commerce Olympiad is a prestigious platform that celebrates the brilliance and innovation in the field of commerce. It offers young enthusiasts a chance to showcase their strategic thinking, problem-solving abilities, and entrepreneurial prowess. This is an opportunity to test your skills and take a step towards shaping your future in the world of business. It is open to the students of class XI, class XII and the pass out batch of 2023.
Structure of the Olympiad:
The Olympiad will consist of sections focusing on the application of commerce concepts, logical reasoning, case study/problem-solving, and data interpretation. These sections will evaluate participants' understanding, critical thinking, problem-solving skills, and ability to analyze and interpret data in the context of commerce.
Why Participate?
Participating in the National Commerce Olympiad offers unparalleled challenges that test your commerce knowledge and business instincts. It provides a transformative learning experience, enhancing your skills and broadening your perspective on commerce. The Olympiad offers recognition, rewards, and the chance to shine on a national stage. It empowers future leaders by equipping them with the tools and mindset needed to thrive in the business world.
What's at stake?
Cash Prizes: A cumulative sum of ₹70,000 will be allocated as cash prizes for the winners.
Certificates of Merit: All finalists will be awarded certificates of merit.
Certificates of Participation: Every participant will receive a certificate of participation, recognizing their active involvement and contribution to the olympiad.
How to Participate?Participating in the National Commerce Olympiad is a straightforward process. Apply here to register yourself for this prestigious event. The registration process is simple, ensuring that no aspiring business leader is left behind.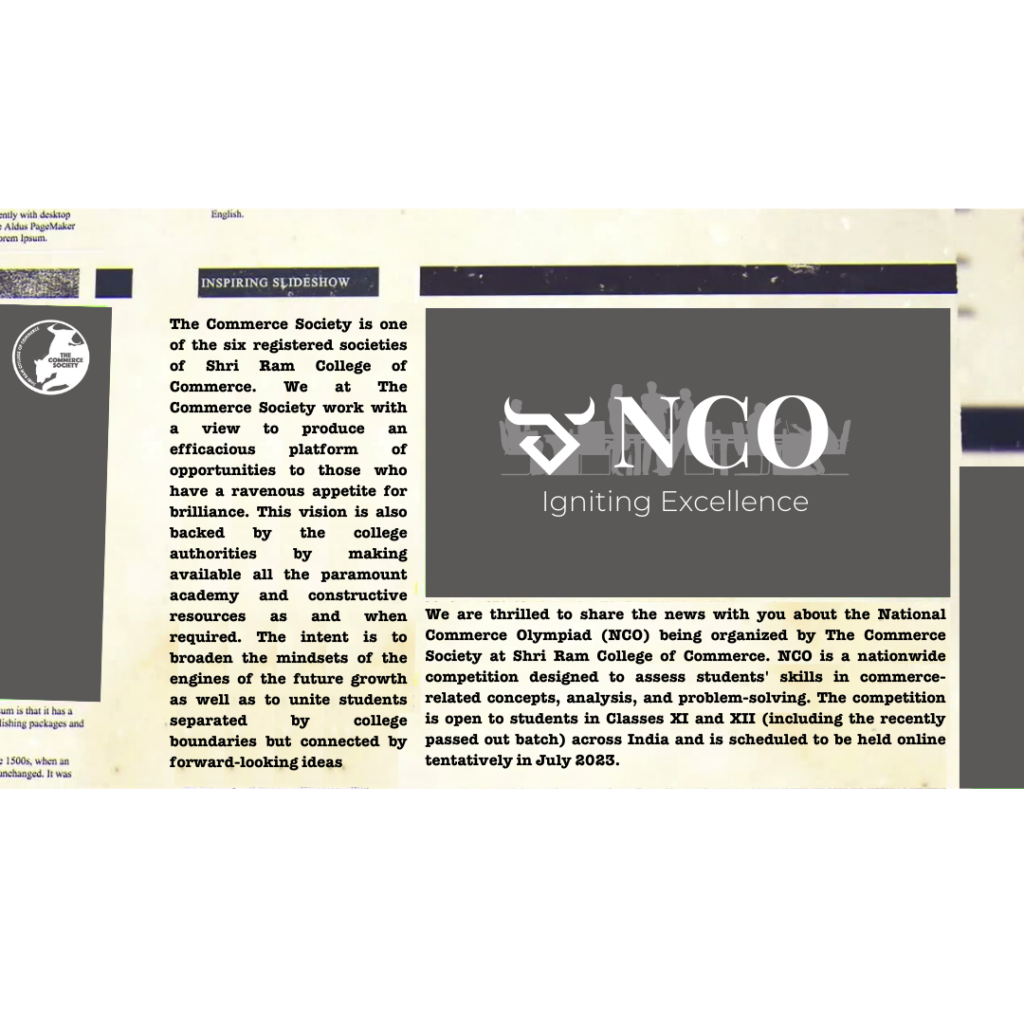 Registration Procedure:
Click on 'Register on Unstop.'
Login to Unstop using your Facebook/Google/LinkedIn account. You may also create a new account.
Enter your credentials along with your School or College Name and Class/Year and click on 'Submit'. Enter additional details like City, State, and Referral Code (if any), and click on 'Submit'.
Choose the suitable payment method before clicking on 'Pay' to make the payment of the registration fees.
On making the payment, you will get a payment confirmation email.
The Olympiad shall be conducted online, and the details about the platform and login credentials will be conveyed over e-mail to the candidates a few days before the examination.
Important Dates:
Registration Closes: 15th July 2023
Olympiad Dates: 30th July 2023
Don't miss this golden opportunity to set your course for success in the world of commerce. The National Commerce Olympiad promises to be an event that will challenge, inspire, and transform your business journey.
Join us today and unlock your potential to become a future business leader!
Registration link :
https://unstop.com/competitions/national-commerce-olympiad2023-srcc-du-delhi-679635