Must have pieces to liven up your summer home
By Vedica Vora
As a balmy summer air heralds long, sunny days to come, it's time to open our hearts (and homes) to a lighter, breezier setting. Think afternoons spent indoors enjoying a mint cooler, evenings enjoyed lounging by the patio and nights gazing into the starry summer sky as sheer drapes sashay about in the breeze- we've got you covered when it comes to livening up your idyllic summer home.
Our mood board for the season consists of some beautiful block printed upholstery, mul-soft curtains, light garden furniture and the perfect drinkware, incomplete of course, without the quintessential summer flora and fauna. The season for soft, joyful palettes calls for an update to just the pastels- we're playing with neo-creme, lemon, sage and vibrant magentas as we mix prints and textures to create mindful, refreshing nooks that make a home sing of the summer. While the season may be challenging to deal with, the decor needn't.
Ahead, covetable finds for the ultimate summer update!
Bedding
Accented with breezy palm motifs in a refreshing lemon hue, this bedding set adds a vibrant joy to the summer bedroom embodying the spirit of the season
Midsummer Bedding Set, ₹19,500, Cottons & Satins
Link: https://cottonsandsatins.com/collections/bedding/products/midsummer-bedding-set
Curtains
With their distinctive texture and easy fall, these pre-stitched, linen drapes from Saphed add a dimension to any room in your home. Take your pick of their Indian textures, the pristine Taj, a clean white and the raw Undyed.
Taj Linen Curtain, ₹2,999, Saphed
Link: https://saphed.com/collections/linen-curtains/products/taj-linen-curtain
Wall decals
Kalakaari Haath's infamous wall decals are a must have to spruce up your summer home. The Wait for Me Decal is a gorgeous vinyl piece that is sure to open up any space!
Wait For Me Wall Decal, ₹3,999, Kalakaari Haath
Link: https://kalakaarihaath.com/product/decals/large-diy-decals/wait-for-me/
Drinkware
Inspired by the blooms on the Himalayan foothills, this set of hand decorated coupes plated in 24-carat gold is the definition of summer luxury. You'll surely find us lounging by the pool sipping on a glass of our favorite cocktail!
Blue Mist Petit Coupe, ₹6,000, Good Earth
Link: https://www.goodearth.in/catalogue/blue-mist-petit-coupe_22972/
Upholstery
Inspired by the Mughal Poppy, the Gulshan collection is a handblocked marvel. Made using the laborious Pique stitch, it's the perfect piece to throw over your couch for a refreshing hint of summer blooms!
Mughal Red Poppy Pique Cushion cover, ₹1,099, House of Ekam
Link: https://www.houseofekam.com/products/mughal-red-poppy-pique-cushion-cover
Reading Accessories
This covetable magazine rack is a refreshing addition to your seating spaces. We love the dainty florals dotted with summer fauna!
Grey Blossom Hand Painted Magazine Rack, ₹6,300, Blank Slate Home
Link: https://www.blankslatehome.com/collections/grey-blossom/products/hand-painted-grey-blossom-design-magazine-rack
Outdoor Lounging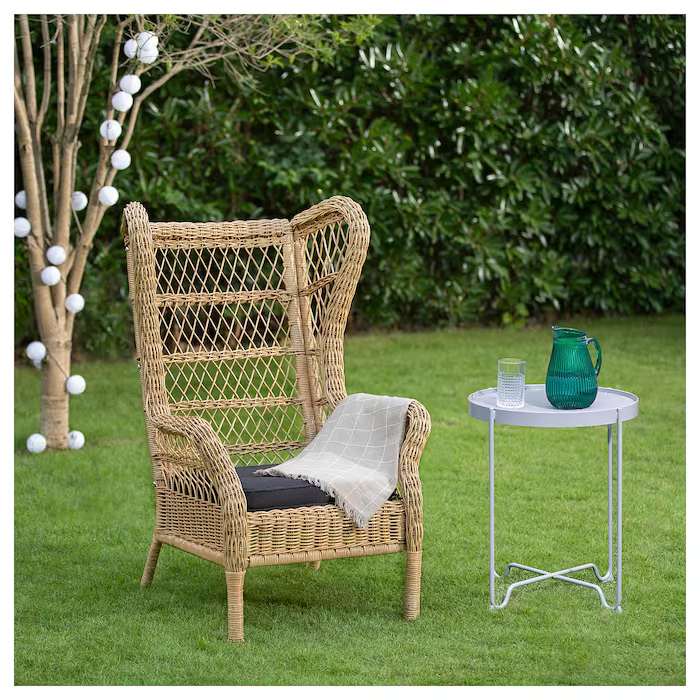 This Risholman from Ikea has got your back this summer. No, literally! Perfect for lounging outdoors, this maintenance-free rattan is just what you need to kick back and enjoy breezy summer evenings
Risholman Wing Chair, ₹19,890, IKEA
Link: https://www.ikea.com/in/en/p/risholmen-wing-chair-in-outdoor-jaerpoen-duvholmen-anthracite-s29435219/?utm_source=google&utm_medium=surfaces&utm_campaign=shopping_feed&utm
_content=free_google_shopping_clicks%20_Outdoor_Secondarystorage&region_
id=598598&gclid=CjwKCAiA3pugBhAwEiwAWFzwdQXtKQ5GcT_
MepOFaB0uvQwB5ym4I8cO58_IKCRitbgYEielGw9dGBoCgP0QAvD_BwE 
Vases
There's nothing as classic as a glass vase. This ice-like glass vase adds some much needed whimsy to any space!
Trushita Glass Vase, ₹1,499, Fabindia
Link: https://www.fabindia.com/trushita-glass-vase-medium-10722877