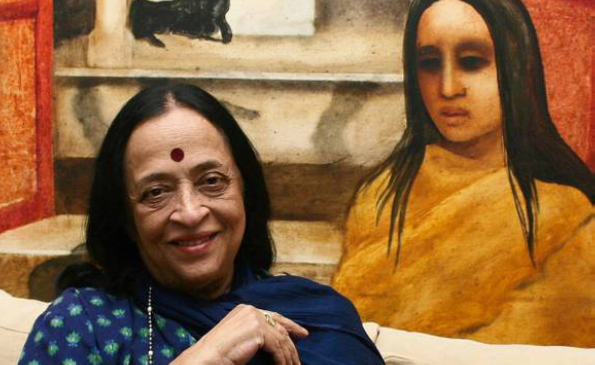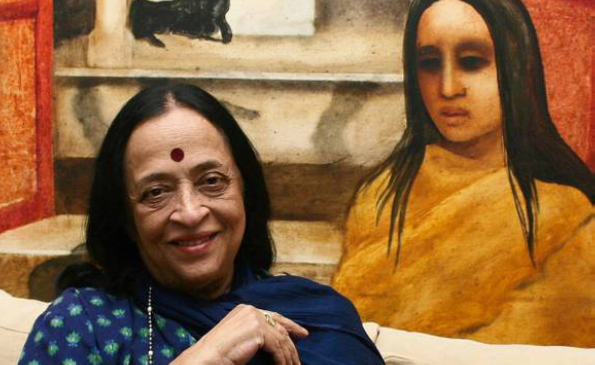 Anjolie Ela Menon (born 1940) is one of India's leading contemporary artists. Her paintings are in several major collections. In 2006 her work "Yatra" was acquired by the Asian Art Museum of San Francisco, California. Her preferred medium is oil on Masonite, though she has also worked in other media, including glass and watercolour. She is a well-known muralist. She was awarded the Padma Shree in 2000. The Padma Shri, the fourth highest civilian award in India in 2000, the Limca Book of Records, lifetime achievement award
2013 by the government of NCT of Delhi, and Kalidas Samman, 2018 for Visual Arts from Madhya Pradesh government to name a few.
Anjolie Ela Menon was born in Burnpur, West Bengal in 1940. She studied Literature at New Delhi before studying at the J J School of Art in Bombay which she left midway to study in Europe. She studied on a scholarship at Atelier Fresque, Ecole Nationale des Beaux-Art, Paris from 1959-61. She was drawn to European art and her works reflect this.
The translucent glazes were inspired by medieval Christian Art. She first prepares the Masonite surface by applying thin layers of paint after which she scrapes it and repaints on top with translucent colours to arrive at a smooth polished surface. These deep jewel tones with a slight texture help Anjolie in her way has also adapted to the new normal and says "Having painted this huge mural for a corporate house in Ahmedabad (image attached) I am now reduced to paint small paintings during the lockdown. I rigged up a makeshift studio in the house using a dining room chair as an easel, bowls from the kitchen for the turpentine and oil, an empty pineapple tin to hold the brushes, an old plate for the palette! Small works are emerging, a change from the huge mural I recently finished." quality of her gloomy, still, longitudinal, dark-eyed figures.
She has constantly re-envisioned her role as an artist right from the early oils on Masonite to her murals, mixed media works and sculptures and resisted being categorized by a certain style. The female nude has been a frequent subject along with the thematic iconography of distance and loss that she developed through her images of crows, empty chairs, semi-hidden figures. Her works are deeply sentimental, moving, feminine still instantly attractive. She has an entire series of works painted on wooden doors, trunks, and window panels that she explored and sourced.